From Wall Street Journal & USA Today bestselling author Natasha Madison comes a stand-alone small-town, second-chance sports romance.
When two worlds crossover. From the This Is Series and The Southern Series. Things are supposed to go smoothly on your wedding day. Aren't they?
Sofia Barnes
I've always loved to play dress-up. Creating fake weddings was my childhood pastime. Now it is my dream come true.
I've finally been handed my first client. But nothing could prepare me for who greeted me when I walked in. He was my first kiss, my first everything, including my first and only heartbreak. Now I have to plan his wedding.
Matthew Petrov
My family is filled with hockey royalty. From my grandfather to my uncle to my father. Now it is my turn to work my way up the leaderboard. I had everything that I've ever wanted in my life. Or so I thought.
Nothing could prepare me for coming face-to-face with Sofia. I knew her inside and out. She knew my inner secrets. Two years ago, I let her go, and now she's planning my wedding to someone else. They say time heals old wounds. They lied. Maybe she was just mine to take.
Oh this one was fun. Angsty without being so angsty that you need to take a break.
Sofia and Matthew were soulmates who messed things up 2 years ago. Well, really, Matthew messed them up, but regardless, they are no longer together...until Matthew chooses her company to help plan his wedding.
And, the new woman in his life has no idea who Sofia is...so, that's awkward.
I liked the way this was handled, the way it allows him to see what was missing in his current relationship while knowing that he may never be able to get Sofia back. And, I think it made me really willing to believe Sofia was what he wanted, as he wasn't deciding it while they were together, but while they weren't.
As is the case in all of Natasha Madison's books, the family is large and plays a big part in the story, but it adds some fun and humor to the situation, as well as some perspective as they all seem to also know how big a mistake he made with Sofia.
Their connection is strong, even when they are fighting it, and I believed in them as a couple, and that allowed this title to work well for me.
I enjoyed and recommend this title.
Grab Your Copy! https://www.amazon.com/dp/B0B88R8R43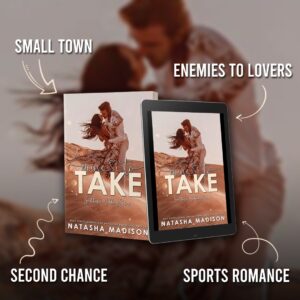 Meet Natasha Madison:
When her nose isn't buried in a book, or her fingers flying across a keyboard writing, she's in the kitchen creating gourmet meals. You can find her, in four inch heels no less, in the car chauffeuring kids, or possibly with her husband scheduling his business trips. It's a good thing her characters do what she says, because even her Labrador doesn't listen to her…
Keep up with Natasha Madison and subscribe to her newsletter https://www.natashamadisonauthor.com/
To learn more about Natasha Madison & her books, visit here!
Connect with Natasha Madison: https://www.natashamadisonauthor.com/contact-me
Hosted by: